Lezen en schrijven
Veel lezen is voor de bevordering van taalvaardigheid essentieel. Leren schrijven is van belang om je goed uit te kunnen drukken in schrift. Maar waar begin je als je net of anders-gealfabetiseerd bent?
Ster in lezen
Ster in lezen is speciaal ontwikkeld voor anderstalige jongeren die aan het begin staan van de ontwikkeling van leesvaardigheid in het Nederlands. Op drie verschillende niveaus Alfa A, Alfa B en Alfa C kunnen zijn aan de slag.
De korte teksten, de heldere illustraties en de begripsvragen helpen de leerlingen hun leesvaardigheid stap voor stap en op plezierige wijze te ontwikkelen en te verbeteren. Bekijk hier een inkijkexemplaar van Ster in lezen Alfa A, Ster in lezen Alfa B of Ster in lezen Alfa C.
Ster in schrijven
Ster in schrijven bevat functionele oefeningen voor beginnende schrijvers. Leerlingen leren bijvoorbeeld een app en een mail te schrijven, formulieren in te vullen en eenvoudige verslagen te maken. Daarnaast is er ruim aandacht voor creatief schrijven: gedichten, posters, verhalen, het komt allemaal langs.
Door de heldere structuur worden leerlingen stapsgewijs meegenomen in het schrijfproces. Zo ontwikkelen ze heel geleidelijk hun functionele schrijfvaardigheid.
De oefeningen sluiten aan bij de deelvaardigheden van het Raamwerk Alfabetisering en het ERK: correspondentie, berichten en formulieren, verslagen en vrij schrijven. Op drie verschillende niveaus kunnen leerlingen aan de slag: Alfa A, B en C.
Bekijk hier een inkijkexemplaar van Ster in schrijven Alfa B of Ster in schrijven Alfa C.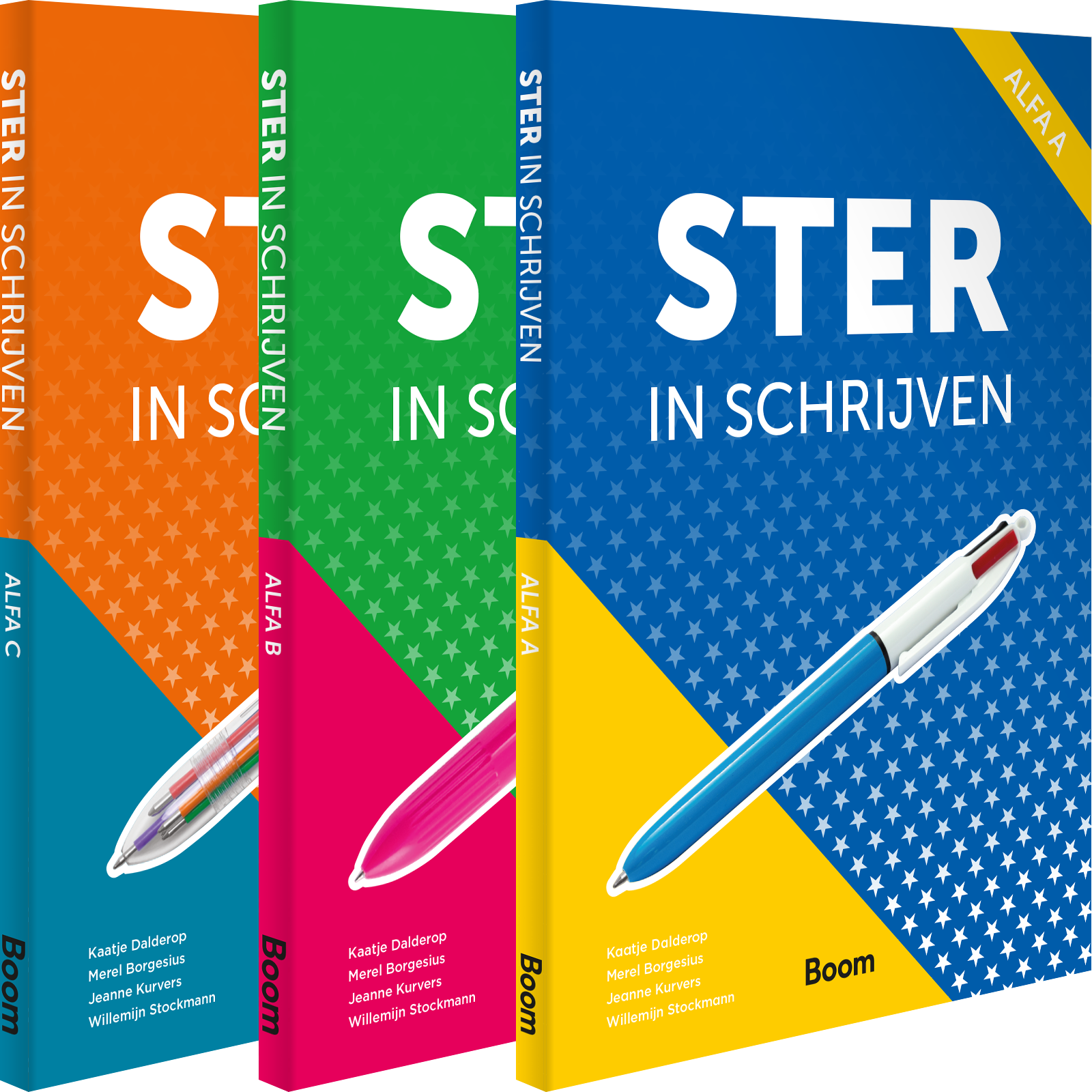 Ster in lezen of Ster in schrijven aanschaffen?