20-9-2021
Boom NT2 op de BVNT2-conferentie
Het team van Boom NT2 ontwikkelt continu, samen met experts en docenten, eigentijds en effectief lesmateriaal, waarmee we iedereen een passend traject bieden. Ook om je cursisten voor te bereiden op de nieuwe inburgering, kun je met ons materiaal aan de slag. En je kan helemaal zelf bepalen hoe je dat doet: online, in het klaslokaal of hybride.
Kortingscode
Leuk dat je vandaag online aanwezig bent bij de BVNT2-conferentie! Ter ere van deze conferentie krijg je vandaag (25 september) 30% korting op al ons lesmateriaal voor cursisten.
- Gebruik de code BVNT22021 voor 30% korting op het lesmateriaal voor cursisten.
Let op: deze kortingscode is alleen geldig op zaterdag 25 september.
Alle informatie omtrent de nieuwe inburgering
Heb jij ons nieuwe NT2-dossier over de nieuwe Wet inburgering al gezien? Hier vind je alle informatie over wat er gaat veranderen, de drie leerroutes, de brede intake, PIP, PVT, MAP en Blik op werk.
Daarnaast bereidt het Praktijkboek NT2 de docent voor op de nieuwe inburgering en het vak van de NT2-docent in brede zin. De drie auteurs benaderen het vak vanuit hun eigen discipline: het beleid, de praktijk en de taalverwerving.
De nieuwe inburgering met het lesmateriaal van Boom NT2
Wij bieden passend lesmateriaal voor elke route van de nieuwe inburgering! Wil jij weten met welk lesmateriaal jij en je cursisten aan de slag kunnen gaan? Onderstaand overzicht kan je hierbij helpen. Klik hier om onderstaande afbeelding te vergroten.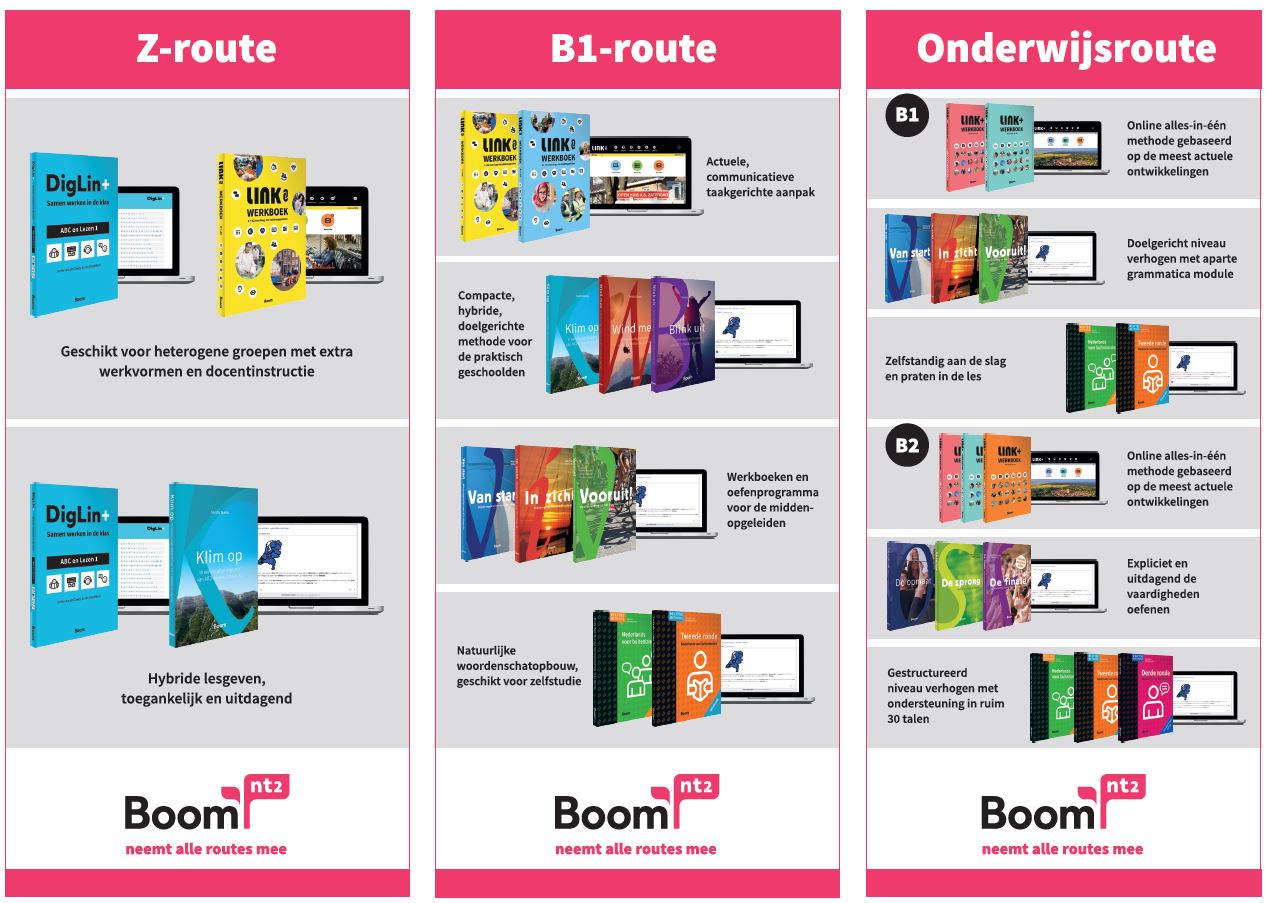 Vragen?
Neem bij vragen gerust contact op met onze klantenservice, via 020 5200 126 of nt2@boomamsterdam.nl.