19-3-2019
Rijg, leer tot 'n meter lang!
Rijg, draai om en kijk of het goed is. Kinderen kunnen met Lidwoordrups hun woordenschat uitbreiden en lidwoorden verwerven: spelenderwijs, zelfstandig en zelfcontrolerend!
Lidwoordrups is bedoeld voor jonge anderstalige én Nederlandstalige kinderen in de leeftijd tussen 4 en 9 jaar. Het spel helpt bij de verwerving van nieuwe zelfstandig naamwoorden en het oefenen met de lidwoorden.
En het mooie is: je hoeft niet te kunnen lezen om met woorden te spelen! Het vrolijke karakter van de rups nodigt het kind uit om opnieuw aan de slag te gaan met wat er nog moet worden verbeterd.
Rijg de woorden op de DE -rups of de HET-rups, draai de rups om en zie wat er goed of fout is.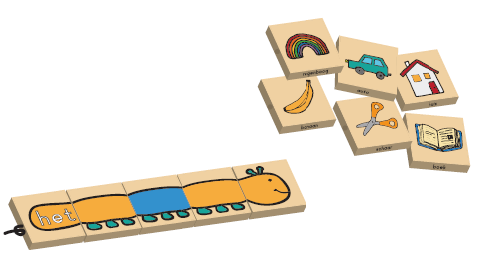 Lidwoordrups bevat in totaal 32 de- en het-woorden afkomstig uit de Basiswoordenlijst Amsterdamse Kleuters (BAK). Alle woorden zijn voorzien van een heldere tekening en - voor hen die al leren lezen - het geschreven woord.
Lidwoordrups
Fleur Goppel
Isbn: 9789461055996
€ 39,90